Click here to see our career highlights video and the full recordings of each of our breakout rooms!
On Feb. 12, STEM Sorority hosted our first event, a career workshop featuring 3 prominent women in STEM from healthcare and biotech sectors. With around 80 girls from schools all across Vancouver attending, the event was a great success and many girls stated that they gained valuable knowledge about how to meet their future career goals. The event started with short introductions from each of the speakers in front of all the attendees. Then, attendees were split into breakout rooms with their desired speaker to listen to a 10 minute presentation and then participate in a 10 minute Q&A session.
In Breakout Room 1 was Dr. Laura Arbour, a clinical geneticist and researcher of Indigenous genetic diseases. In Dr. Arbour's workshop, she introduced Long QT syndrome to us, a research topic she has been involved in for many years. This syndrome, although rare, is a genetic mutation mostly found in Indigenous Peoples which disrupts the heart rhythm, possibly leading to sudden seizures or even death. She explained that the syndrome can be easily treated with a beta blocker, so it is crucial to offer Indigenous People accessible genetic testing. Dr. Arbour has also worked to set up inherited arrhythmia clinics in Northern BC and emphasized the importance of working with local Indigenous Peoples of the area, such as educating their community about genetic diseases. Her goal is to bridge the genetic divide, providing for those in less supported and acknowledge regions. Lastly, she gave us some tips about how to pursue a career as a researcher and work on a team like hers, such as always being curious and proactive.
In Breakout Room 2 was Ms. Norma Biln. During STEM Sorority's speaker day, Norma Biln talked a bit about her company, Augurex, but also about her experiences getting to where she is now. We learned about the biomarkers Augurex makes that help diagnose rheumatoid arthritis at an earlier stage. She also talked about how it's important to focus on what you want to do, and not what stops from doing it, and how it's helpful to take steps to volunteer/work to get experience in the field of study you want to pursue. Even while presently working and managing her own company, she believes in continuing education, and is currently halfway through a PhD degree.
In Breakout Room 3 was Dr. Alissa Wright, head of Infectious Diseases at Vancouver General Hospital. For her presentation, she talked about her her career path and the education needed to achieve her esteemed position as a woman in STEM. Surprisingly Dr. Wright knew she was interested in medicine ever since she was young despite not having many influences pushing her towards a career path in medicine. It was fascinating to hear about the turning points which helped Alissa Wright determine what fields she was interested during numerous years of education and finally reaching the important positions, such as department head of the Infectious Diseases and running the Transplant Department at Vancouver General Hospital. In the Q & A portion, Dr. Wright gave many enlightening and well thought out responses to our questions and provided valuable career advice.
Check out this together mode screenshot from our workshop below 🙂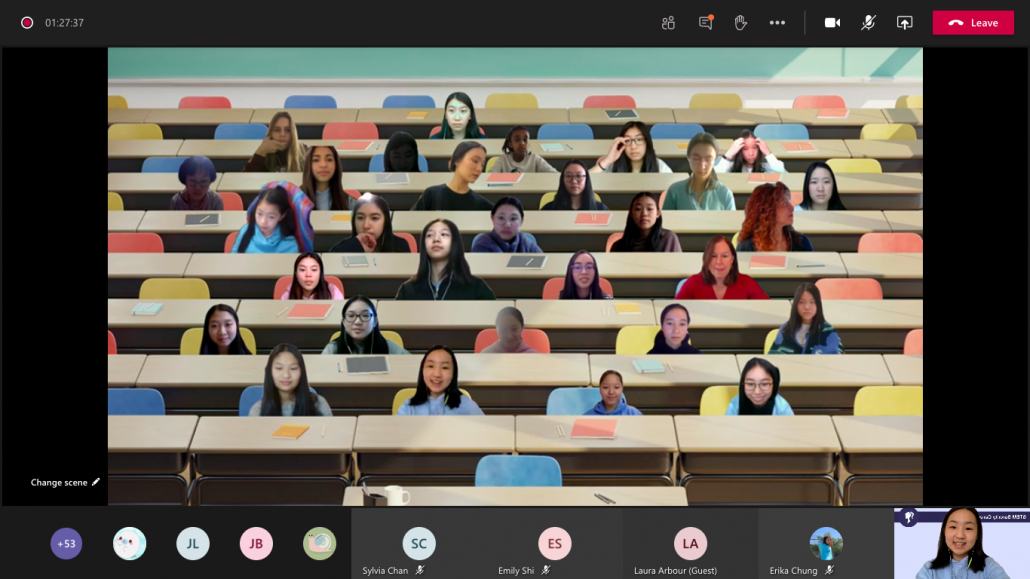 http://www.stemsorority.com/wp-content/uploads/2021/01/logocirclebutbetter.png
0
0
ssblogwriter
http://www.stemsorority.com/wp-content/uploads/2021/01/logocirclebutbetter.png
ssblogwriter
2021-02-21 07:07:00
2021-08-21 21:03:35
Healthcare and Biotechnology Career Workshop